Before the world discovered Serayah's flirtatious on-screen personality, Tiana Brown, on Fox's hit show, Empire, the R&B actress/singer was at a crossroads. She and her mother (now director) lived through a season of homelessness that served as a precipice for her dreams to come true. "You can get bored and feel like giving up, but I had no lower," Serayah says. xoNecole exclusively. "I could only go up [from there]. I decided to myself that it wasn't going to be [my] more life.
---
When the opportunity arose for her to audition for Empire, Serayah knew it was now or never. And as fate would have it, landing the breakout role on the show would not only see him through his struggles, but serve as a catalyst to manifest his dreams of succeeding in the entertainment industry and enshrine his perspective in his art.
Serayah, best describes her six-season run on Empire as "a super cool and glamorous college". After her six years on the show, Serayah decided to mark "the end of an era" with a daring platinum blonde pixie cut, shedding her feminine charm to fully embody the multi-hyphenated woman she is becoming.
Coming out as an R&B singer meant tapping into who Serayah, the artist, declared herself to be. In her highly anticipated new single, "POV", Serayah invites her fans and listeners into her real life, to show that even the most difficult experiences can be an opportunity for growth and improved perspective. From changes within those around her, her blossoming love life, and the daily challenges of being a public figure, "POV" is the essence of Serayah's journey through her words, in her own way.
"Music has helped me [find perspective] before. I always want to be true to the narrative in the space I'm in; it is transparency through music. I'm not necessarily looking for a sound or a social media platform. I want art to imitate life," she told xoNecole. "That's why I love R&B and blues and jazz because they've always been authentic to what was happening in that time and era. I want to keep pushing that side of music that encapsulates really a time and a space. I want my music to feel like that.
"I'm not necessarily looking for a sound or a social media platform. I want art to imitate life."
Serayah creates from space true to her intuition by living and learning through trial and error. Although she's flattered to be "#goals" to her fans, what she hopes to convey through her music is that she's just figuring it out. "I want people to know where I come from and know my struggles. I want to be an example for those who look up to me, but I don't want them to think that all that glitters is gold. She continues: "The most beautiful and expensive diamonds had to be pressured. It's normal to have ups and downs, I want to be a realistic model."
Allow this to be your reintroduction to Serayah.
xoNecole: What does your new single "POV" mean to you in terms of the direction you are looking to take musically?
Serayah: When I recorded the record I always knew it should be part of a body of work – an EP or an album – because it's such a story and I just feel like many people can relate to what i'm talking about. "POV" sums up my childhood, about my struggles, finally being successful and earning money that I never had before. My friends are changing, I'm losing friendships, some of my family members are acting weird now; it's as if success brings different things out of the circle of people around you. And of course, also my feelings of love. "POV" is the point of view from the beginning of life until 21 years old [years old]. I used that time to leave everything there and walk past.
xoNecole: Sometimes, when it comes to new artists, the first project can be accompanied by certain pressures. Did you have any hesitations about releasing new music and how did you overcome those feelings?
S: Oh my God, yes! I've had this song for about two years. Maybe three? I mean, we are artists and we are sensitive. It's literally the most vulnerable thing you can do is say, 'Hey, this is what I think is cool, this is what I put all my emotions into, and I hope you like it.' It's annoying. But I think for me, it's just, like, making sure I'm 100% into it. I've thought too much about some records before, but I'm putting them out now; I passed that. I'm sure there will be another project or another single where I also think about it too much. I just feel like it's part of the creative process; sometimes you can think too much.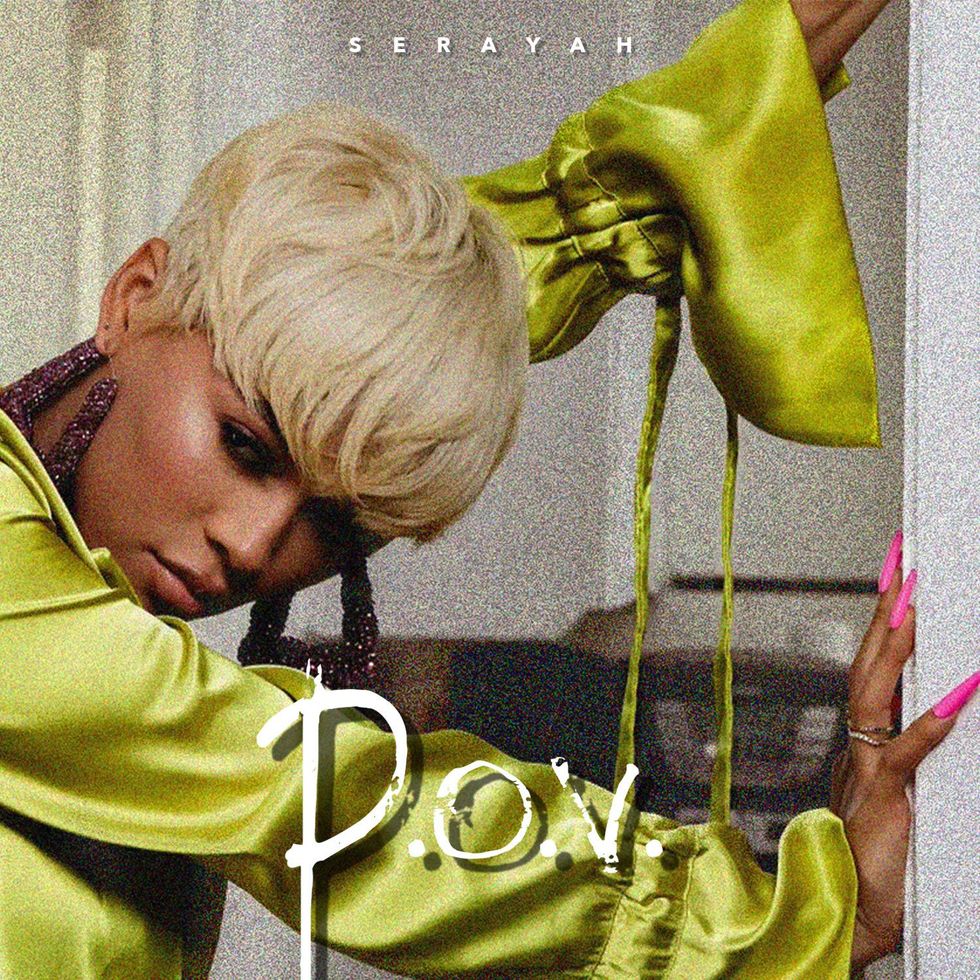 sterling gold
xoNecole: You and your boo, Jacob Latimore, have been together for a few years now, and the girls want to know, what's the secret? What do you think was the key to having a flourishing relationship?
S: No secrets, sis! I really think things should be extremely simple. I feel like dating, in general, is a bit complicated, but then you add on social media and you add [the fact that] you're celebrities, and that makes things a little more complicated if you let it. [Jacob and I] we had our moments. We talk about everything; how we feel and we are completely transparent. It's so open that way. He's very warm and caring where he wants to know what's going on with me and how I'm feeling throughout the day, and I appreciate that. It creates a connection to be able to get through things that maybe if I wasn't comfortable we couldn't get through.
And so I think the secret would be just to be transparent and sensitive with each other because we all come from somewhere; we all have triggers and pasts. We need to develop respect for each other, especially as black men and women. We need to respect each other and be just a little more soft with each other. There's a lot of trauma, and you have to understand what it is and all that plays into it. As you can see, if I'm serious with someone, I get into everything. Keep it 100% with each other at all times.
xoNecole: How did you grow in your relationship?
S: It's so important when you're in love or in a relationship with another person that you put your self-esteem first, because how you feel about yourself, your life, and your career affects you and will affect you. your relationships and how you perceive them. I learned to just have moments of self-reflection instead of reacting; if there is something that bothers me, i don't have to say it as soon as it happens, i can take a second, a day or an hour, and think about it myself. It's me? How do I interpret the situation and how can I talk to [my partner] without being angry or what? It helped me communicate more effectively and in a healthier way. Communication all.
Especially for [me and Jacob]; I haven't seen him for a month. So we have to communicate, we don't have the lifestyle where we're always going to be with each other. We should also offer their flowers to our men. There's this big thing that says, "He has to buy me Birkins, he has to buy me this and I'm in the club singing it too, don't twist it." But I really feel like the gem is celebrating our men and making them feel wanted and appreciated and that they're okay. They are changing the trajectory of black men in general. It's so important for us to think about the big picture when we talk about black love.
"It's so important when you're in love or in a relationship with another person that you prioritize your self-esteem because how you feel about yourself, your life and your career reflects on you and is will affect your relationships and the way you see them."
xoNecole: You've had a lot of rapid growth and life transitions over the years, what advice would you give to someone who is learning to adapt to a new chapter in their life?
S: I would say: be humble, not modest. Being humble is a great thing and humility goes a long way, in addition to being grateful. So when you are in this transition, bring your confidence and attack your goals head on. Big places and big blessings will always be uncomfortable, the more you want [in life], the more uncomfortable you will be. As long as you know you're never in a place you're not ready to be, don't even worry about the little things. Just focus on the big picture and you'll be fine.
For more from Serayah, follow her on Instagram @serayah. His new single, "POV" is now streaming.
Featured Image by Sterling Gold